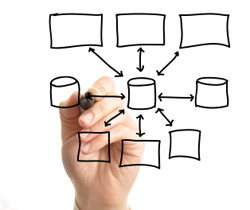 As business processes and systems become increasingly complex, lack of information sharing between key business applications introduces inefficiencies and added cost. A well defined Systems Strategy removes isolated 'islands' of data and brings significant business benefit by increasing knowledge, agility, customer service and timeliness of information – reducing operating costs and ongoing capital outlay.
IBSA staff have undertaken extensive analyses of the Information Management needs of all Business Areas within key major government agencies over the last 12 years and delivered four three year Strategic plans which were subsequently endorsed by the Corporate Management Groups and used as the blue print for all Information Management and Technology investment. This typically involved the conduct of a range of interaction sessions with representatives from Business areas, Organisation Management and Industry Representatives. The sessions used to achieve the outcomes included workshop, focus groups and industry presentations along with site visits to like organisations in size or perceived culture. The Plans outlined key areas for strategic IT investment, likely timings and key accountabilities as well as high level outlines of projects to be undertaken. In addition first order cost estimates and benefits to be derived were delivered.
A core capability of IBSA is the inclusion of Architectural Definition of the Enterprise and the support and maintenance of the operating environment it works in.
Our experience has resulted in extensive interactions with global supplier organisations and, as a significant contributor to the Victorian ICT industry, IBSA is familiar with Victorian Government strategic directions, policies, principles and frameworks as they apply to ICT services, the industry we serve.