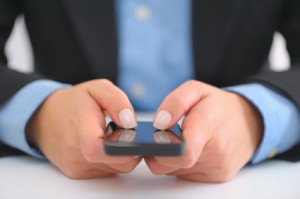 We offer a complete range of mobile solutions for tablet and smartphone devices across the Apple, Android and Windows platforms. We specialise in delivering mobile solutions that increase the access & relevance of your key business applications & information, leverage existing investments in applications & increase their ROI, Maintain and build the ongoing relationship with your end-user by engaging/interacting more, Built your brand and are COOOOL!
Since inception, it has been our goal to free software and information from the physical bounds of time and space of the personal computer. Initially, we achieved this through the delivery of web-based solutions. At the turn of this century, we pioneered the use of mobile devices (such as tablet PC's and PDA's) as a means of extending the use and application of mission-critical software solutions. Now we leverage ubiquitous mobile platforms to even greater effect.
The Mobile platform is not the first wave of paradigm shift that we have ridden. Our team have worked through the shifts from mainframe to pc, from character-based to graphical user interfaces and from client-Server to web-based systems. 
The IBSA Difference: We have the experience and skills to leverage and integrate these new platforms. We know how to manage the challenges and risk these introduce so as to focus on fully harnessing their power. We combine this knowledge with our robust enterprise software development capability to reliably deliver mobile solutions that are secure, deliver a great user experience, perform well in the field and are supported by rock-solid back-end systems. Just because it's mobile, we don't throw away the great capability, knowledge and process that has delivered exceptional results till know. We are uniquely placed to successfully introduce world-class efficiency and radical effectiveness to your organisation. 
Our Approach
Our mobile solutions development team produce highly interactive applications that deliver a superior user experience and provide rich functionality. 
Native Applications: We harness the power of native mobile platforms to offer tightly integrated applications that utilise the onboard facilities such as still/video camera, storage, GPS, accelerometer and internet connectivity.
Web Applications: Where security, the need to extend existing systems, or cross platform compatibility is a primary consideration – we can leverage our extensive web development experience to deliver HTML 5 based mobile applications.  Utilising HTML 5, JavaScipt and cascading style sheets IBSA can deliver a rich user experience across the various devices with a single solution. 
Services to assist you:
Prototype development
Proof of Concept engagements
Cloud Solutions