Leveraging a single platform to deliver more financial products, through more distribution channels via technology that delivers to market at lightning speed.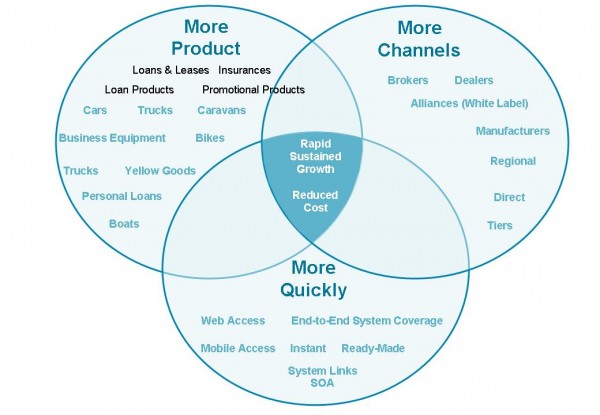 More Product
FinanceManager delivers a range of financial products covering: Cars, Trucks, Motor Cycles, Caravans, Marine, Equipment and Yellow Goods and more…
It also supports many different product types including: Leases, Loans, Personal Loans, Lines of Credit, Capital Loans, Warrantee, Comprehensive Insurance, Income Protection Insurance, GAP products and more…
More Channels
Many of our client partners operate through distribution networks of Dealers, Brokers or other 3rd parties. Having helped to deliver some of the largest distribution networks in Australia, we feel confident that we can assist you to implement your strategic vision.
Closely coupled with the concept of Channels is that of Branding. FinanceManager has been designed to deliver a superior branded experience at each step in the Financial Services Supply Chain with many features such as White Labelling, Branded Documentation, Branded User Interface and segmented reporting.
More Quickly 
Your solution can leverage a ready-made selection of modules each of which is accessible from a mobile device or a web-browser in your desktop. Leveraging legacy or other core systems is easily achieved using a variety of integration features of our architecture.